WHY AUTOMATE CLAIMS & DEDUCTIONS WITH ESKER?
Esker's Claims & Deductions automation solution helps businesses efficiently manage their claims and protect margins. Thanks to Al-driven data capture and electronic workflow capabilities, Esker manages both customer claims associated with products (e.g., product shortage, damaged products, etc.) and customer financial deductions (e.g., trade and promotional invoices, penalty charges, marketing contributions, etc.) that typically impact food, beverage, and consumer goods manufacturers and distributors.
Centralize claims
information

Track all information in a single location & connect data from customer's claim with company invoice, order, delivery note or contract data.

Enhance visibility on
receivables & revenue

With real-time KPIs & dashboards, analyze claims by date, type or customer & review requested vs. authorized claim amount trends.

Facilitate cross-department
collaboration

When investigating & approving claims, simplify collaboration with a flexible investigation & approval workflow & an internal chat tool. "Esker reads the headers and billing lines, thereby automating a low-value task. This allows us to spend more time processing trade and promotional invoices by applying customer agreements. Our CS department has saved over 500 hours per year, freeing up the representatives to focus on higher value tasks."​
Susana López │ Front-Office Retail Customer Service Manager │ GBfoods
Read full story >
WHEN YOU SEE EVERYTHING, YOU CAN HANDLE ANYTHING
You can't improve what you can't measure. Intelligent dashboards with packaged KPIs allow customer service and accounts receivable managers to benefit from actionable data. They can track deductions process trends in real time in easy-to-read charts and reports, analyze claims by type, date or customer, and identify bottlenecks in the workflow.
Compliance concerns? Esker's got you covered. A complete audit trail of every claim touch point is retained so that full transparency and accountability are ensured during the verification and approval process.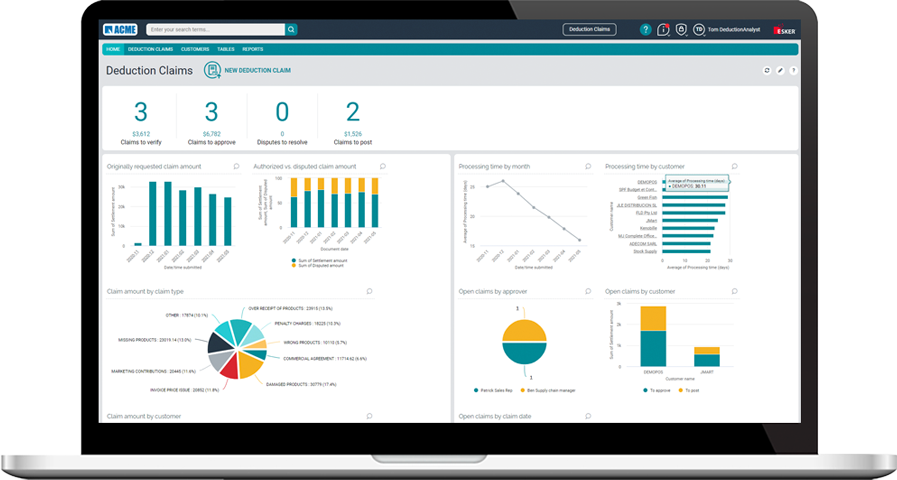 TOOLS TO DIGITALLY TRANSFORM THE CLAIMS PROCESS
Esker's Claims & Deductions solution is built off of 35+ years of field experience and features a wide range of intelligent and powerful features, including:
Persona Block Text:

Esker uses a combination of Al and RPA technologies to optimize data recognition on customer claims, match the claim against the accounts receivable or pull supporting documents from customer portals.

Persona Block Text:

Esker's solution embeds a multi-level approval workflow pre-configured based on the claim type and amount. It allows users from different departments (e.g., sales, supply chain, etc.) to investigate.

Persona Block Text:

Esker's solution integrates with any ERP system. Claims to investigate can be automatically created from a residual item in the ERP, resulting from a short payment. Once claims have been approved in Esker's solution, they can be automatically accounted for in the ERP as a credit note or on a G/L account.

Persona Block Title:

COLLABORATION & COMMUNICATION

Persona Block Text:

To enhance collaboration and communication within the company, an internal chat tool allows users to exchange in an informal way, directly on the claim. Users can also clarify claims directly with customers, using external conversations that are also directly attached to the claim.

"Esker enables me to see recurring customer claims within a given time period and specific stages of the customer experience, helping me improve processes every day based on precise metrics."​
Javier Fernandez Linares │ Customer Service Manager │ Sanofi Spain
Read full story >
You're in good company. Explore some of the other companies and AP leaders that have benefited from automating their processes with Esker.